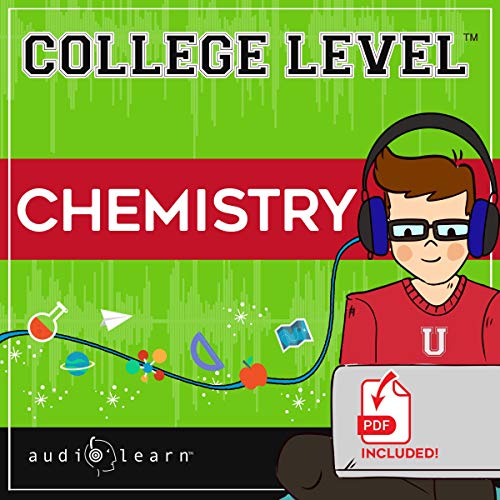 2 Hrs, 12 Mins
Overview: Complete Test Prep and Review for the College Level Chemistry
High Yield College Level Chemistry Test Prep and Review
Accurate, Up-to-date, and Broken Down into Bite-size Chapters
Hundreds of Test Questions
Start your 90-day trial subscription for only $9.99. After the 90-day trial period ends your subscription will auto-renew for $9.99 monthly. If you wish to opt-out you can cancel your subscription on or before the renewal date to prevent your payment method from being charged.
100% MONEY
BACK GUARANTEE
FAST
DOWNLOAD
ONLINE
SUPPORT 24/7
2 Hrs, 12 Mins
Trusted by:
Detail description
---
AudioLearn's college-level courses present Chemistry.
Developed by experienced professors and professionally narrated for easy listening, this chemistry audiobook is a unique and flexible way to explore the subject of college-level chemistry.   
A comprehensive and thorough study of molecules, atoms, and compounds, this chemistry audio course is utilized by those who are preparing to enter advanced studies in the areas of medicine and the sciences. Those interested in working as an astrophysicist, toxicologist, teacher, oceanographer, and even pharmacist need chemistry to fulfill their career goals.
Course material is accurate, up-to-date, and broken down into bite-sized chapters. Following each chapter, we repeat key takeaways to drive home key points and quizzes to review commonly tested questions.  
Through a comprehensive overview of elements and atoms and elements with in-depth breakdowns of matter behavior and relationships, you'll be able to understand thermodynamics, electrochemistry, biochemistry, and everything in between.
This chemistry audiobook will cover: 
Atoms and molar mass

Atomic Structure and the Periodic Law

Gases - Gas laws, volume and pressures, partial pressures

Ideal Gas Law and Kinetic Theory

Thermochemistry

Chemical bonding and molecular structure

Chemical formulas

Solids and liquids

Solutions

Oxidation-reduction reactions

Thermodynamics

Acids and bases

Electrochemistry

Organic chemistry and biochemistry
We've also included a college-level chemistry practice exam containing the most commonly tested questions with the correct answers explained. Explanations are provided to further your comprehension of the topic and make sure the information sticks.
Also included is a follow-along PDF manual containing the entire text of this audio course as well as all images, figures, and charts we'll be discussing.
To get the most out of this course, we recommend that you listen to the entire audio once while following along in your PDF manual, then go back and listen to areas you found challenging.
Why learn college-level chemistry with AudioLearn?
Auditory learning is a popular learning style that increases comprehension and memory for most people. In school, children learn by listening to their teachers' explanations and looking at some visual cues. Many of us are accustomed to this learning style and see better test results when we study this way.
AudioLearn acknowledges the benefits of auditory learning and makes audio guides accessible for hundreds of topics and tests. We've created numerous audio study guides, practice tests, and mini-courses to give learners an alternative study method. 
 By using the AudioLearn chemistry study guide, you'll better understand your test material, increasing your retention and likelihood of success!
Follow Along PDF